How to Reach our B&B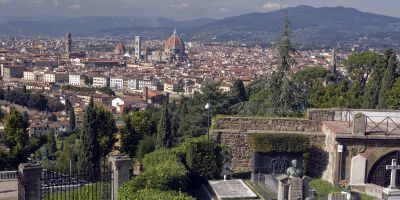 Our Bed and Breakfast is located in the Santo Spirito district, in the south-west of the old town, in the so-called Oltrarno area of Florence. The atmosphere in this neighborhood is unique.
- FROM SANTA MARIA NOVELLA TRAIN STATION
If you arrive by train you can easily reach us by foot in approximately 15 minutes. Come out the station, cross the square and take Via degli Avelli passing by Santa Maria Novella cathedral. After that, carry on to Via dei Fossi until Goldoni square, pass through Ponte alla Carraia and turn into the second street on your right. You are now on Borgo San Frediano. We're at number 6 (a black door). For detailed information about train timetables and ticket purchases, go to the official website of Trenitalia.

- FROM AMERIGO VESPUCCI AIRPORT
If you travel by airplane there are over 60 daily racing that connect the airport and the city center. The bus station is adjacent to the Santa Maria Novella train station. Departures from the airport are every 30 minutes between 6 am to 8.30 pm, then every hour from 8.30 pm to 11.30 pm. Departures from the city center are every thirty minutes from 5.30am to 8 pm and each hour from 8 pm to 11 pm.
Tickets can be purchased on board the bus (A one-way ticket costs 4 euros).
You can get also take a taxi to downtown Florence.

- FROM PISA AIRPORT 'GALILEO GALILEI'
There are three different ways to reach us from Pisa airport:
• By the Terravision shuttle bus. The journey takes around 60 minutes to the city center of Florence. The one-way ticket costs around 5 euros, there are departures almost every 45 minutes.
• By the PisaMover shuttle train that connects the airport and the train station, it runs every ten minutes from 6 am to 12 pm. Here you can get a direct train to Firenze Santa Maria Novella.
• By car. You can rent a car at Pisa airport. Follow the directions for Firenze-Impruneta and the following racing.
From A1 motorway you will take Firenze-Impruneta Exit and in almost 30 minutes you'll be there. Follow the directions in the city driving from Via Cassia and Via Senese to Porta Romana. At the roundabout take the second exit and drive from Viale Petrarca to Piazza Tasso. Turn right and follow the directions for San Frediano driving from Via del Leone to Borgo San Frediano, where you need to turn right. Go straight for almost 200 metres and you will find number 6 (black) on your left.

- ZTL – LIMITED TRAFFIC ZONE
Our b&b is situated in the city center of Florence, therefore access by car is limited. Please carefully read the the details below to avoid any problems.
You are allowed to get through the ZTL as you arrive and depart, as you can stand in front of the bed and breakfast in order to leave or to take your luggage and you must parking in the garage.

- PARKING
Access to parking is limited In the historical center. If you are in Florence with a car you have two options:
• You can park in the BLUE spaces called 'Firenze Parcheggi' on Lungarno Santa Rosa which is about 10 minutes away from our B&B. It's possible to pay with coins (except on public holidays).
• Leave the car near IL PRATO Parking which is just 15 minutes from our B&B. The garage is open every day from 7.00 am to 01.00 pm. If requested the parking offer the pick up and the deliver of the vehicle at the B&B.